If you have an unused room that doesn't serve you well, why not turn it into a room that will be enjoyed for years to come? Turning a spare bedroom into a walk-in closet has become a very popular thing to do and it might be a good choice for you, too. If your closets are bursting at the seams, or your master bedroom space feels cramped due to large chests of drawers, this might be wise decision for you. This option not only offers you all the storage space you'll need for your wardrobe, but it also lightens your bedroom of dressers and large furniture, leading to a place of more spacious peace and tranquility.
Not sure where to begin? Follow these 7 steps and you'll be well on your way to that dream closet.
1) Clear out all furniture from the room
Chances are, if your room is rarely used, you can either sell your items or donate them. Also keep in mind the fact that you can have plenty of drawers installed in your closet system, so your large pieces of furniture in your master bedroom can also go to a new home. But first things first, clear out your spare room.
2) Give your room a fresh coat of paint and address flooring if needed
Ensure your room is the color you'd like it to be. You might consider a fresh coat of paint or even an accent wall, perhaps you have a wall with a window where you could use wallpaper. Remember, this room is a blank canvas and because you'll be in this room every day, make it a place of enjoyment and beauty.
If your carpeting or flooring is showing discoloration and aging, consider installing new carpeting or hardwood floors for easy cleaning. An area rug may add that special touch you're looking for, as well. If you're not ready to update your flooring yet, with a wall-mounted closet system you'll be able to easily change the flooring in the future without impacting your custom closets.
3) Invest in window treatments
There are two reasons why this is important. First, you'll want your privacy as you're getting dressed. Second, you'll want to protect your clothing from the sun's rays. A good set of blinds or curtains will help eliminate fading fabrics.
4) Find a large mirror for your room
Designers recommend a mirror be placed in every room. This is because they reflect light and make a room appear larger. They add a touch of elegance and are masterful décor pieces. There's no doubt you'll want a full-length mirror in your new walk-in closet, but think about it as being an accent piece. Choose a large mirror that's full of charm.
5) Ensure the area is well lit
You can have a lot of fun with this since you're working with a blank canvas. A chandelier will add a boutique feel, making it a treat every time you step into the room. If you prefer a minimalist feel, perhaps recessed lighting is the way to go. No matter what your tastes, be sure lighting is adequate so you can easily find what you're looking for.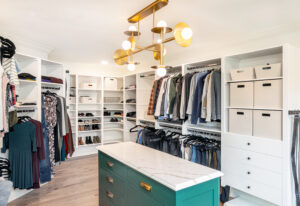 6) Consider comfortable seating
Because your closet system is on your walls, you'll have a good amount of open space in the center of your room. Invest in an ottoman, chaise lounge, or comfy oversized chair. Not only will you appreciate the appearance it gives, but it will also serve as a place to sit as you choose your outfit for the day and a comfortable, safe way to put on your shoes.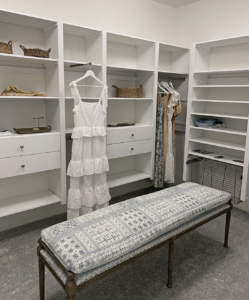 7) Call a closet design expert
Now that you've prepared your room, it's time to call the experts. They'll work with your measurements to create the final look and storage you need. They'll also help you with getting the most attractive and efficient storage possible for your wardrobe. They'll ask questions such as:
Will you need drawers for socks, underwear, pajamas, lingerie or other items?
Do you have long dresses or jackets that require longer hanging sections?
Do you need an area to store jewelry?
Approximately how many pairs of shoes do you have?
Would a built-in hamper or other accessories be beneficial?
Design experts are there to help you bring your vision to reality. They also may have options you haven't thought about that will enhance your room or help you gain storage space. It doesn't have to be a daunting or high-pressure process, and they will guide you through it.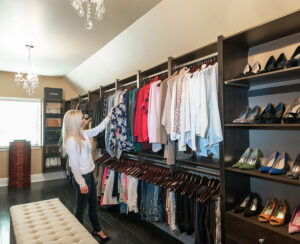 Victory Closets has experience in turning spare rooms into walk-in closets, and our knowledgeable designers can help you make this an easy and fun process. Our budget-friendly systems are designed and built by cabinet makers using only premium, durable materials that will last a lifetime. Better yet, our patented system can be easily reconfigured without tools or fasteners. Call us and let us turn your vision into reality!