Let's face it, laundry day isn't something many look forward to. But it doesn't have to be that way. Try implementing the following ideas to make this day a bit brighter.
Add a Hanging Rod
Every laundry room needs at least a basic hanging rod. Whether it be for items that come right out of the dryer and are immediately hung to prevent wrinkles, or clothing that needs to be hung to dry.
Pro tip: A glide-out belt rack or valet rod works great in the laundry room! Use the hooks on the glide-out belt rack to hang your delicate items or undergarments that don't go in the dryer. Use a valet rod to immediately hang up clothing after you've ironed it.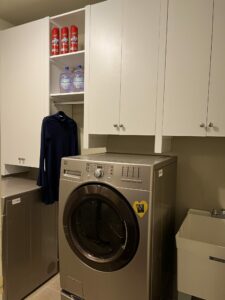 Install a Shelving System
What you choose will depend on the space available, but having a shelving system in place will keep you better organized and make laundry day more pleasant. If you have a small area, utilize your wall space as much a possible. Shelving over your washer and dryer is a great option, and offers the convenience of grabbing what you need easily. If you have a larger room, consider wall shelving with areas to hang clothing as well.
Pro tip: If there are items you want to keep hidden such as cleaning supplies, consider adding doors over your shelving.

Use Baskets to Organize
Baskets are not only a great way to keep a room organized, but they're also visually appealing. Examples for using baskets in a laundry room could be for storing laundry detergents, dryer sheets, or a basket for your iron and spray starches. If your room is larger, consider adding baskets for household cleaning supplies and hamper baskets to hold dirty clothes.
Pro tip: Glide-out baskets are great for storing folded socks or those pesky single socks missing their other half!
Utilize Dry-Erase Markers
When dry-erase markers are within reach, you'll never have to worry about ruining your clothes again. Have you ever found yourself putting clothing in the dryer that didn't belong there and perhaps it was too late when you realized it? It happens more times that we care to admit. Get in the habit of writing reminder notes on your washer to avoid those expensive mistakes.
Add Some Personality
Although laundry day is technically a chore day, you could spice things up a bit by adding personality to your walls and floor. Consider adding an abstract wallpaper print to your laundry room, or paint the walls a color you love. Place an attractive area rug on the floor. Add a few pictures to the walls if room allows, and some potted plants to the shelves. Surrounding yourself with beauty can make chore day more enjoyable.
Have you considered making laundry room improvements? We can help. Call Victory Closets to get your free 3D rendering and quote.