When most people think of closets, they think of wire racks where their clothes are piled high and unorganized. While you may have enough space in your closet,  it can be hard to fit everything in when you only have one rack. And, if you're married, you know the struggles of trying to share that space too!
When you have a closet system,  you can use every inch of your closet space. You can go from one rack to two and add drawers or shelves in order to use the available space more efficiently.
Once you've installed your closet system and all of your items fit nicely, it's time to accessorize. Since most people only use closets as storage for their clothes, they don't think of having pictures, carpets, or other accessories there.
But why not? Besides the bathroom and bedroom, this is a very personal room that you generally don't share with anyone else. In the morning, you want a room that brightens your day. At night you want something that makes you feel relaxed.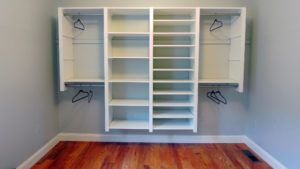 Some of the best ways to decorate your closet are:
Paint
Most people go with a plain white paint for their closet. This is mostly because they don't find the room important enough to put their favorite colors in. While white is a good color because it brightens up the room— and closets often don't have windows— don't be afraid to go with a yellow or light gray to give it some color and life.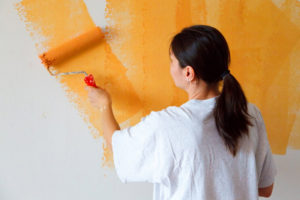 Family photos
You probably have family photos in other rooms, so why not in your closet? When you put 5×7 photos in your closet as small accents, they'll put a smile on your face. Whether your photos are from a beach trip on a cold winter day, kids playing or pets looking cute, try to match your photo frames with the a color scheme of your walls and closet system so you can have a nice flow to the room.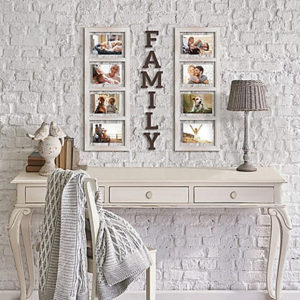 Area Rugs
The closet may not be the most important room in the house, but you can still spice it up by throwing in an area rug. Area rugs are a nice way to decorate, and a patterned rug adds some fun. Also, it will give you more cushion to stand on— and who doesn't love getting changed on a soft carpet?
Flowers
You may be wondering who has enough space in their closet to put in flowers, but you'll be amazed at how much space you'll have when you go from a typical wire rack to a closet system. Just reserve one shelf for a small glass vase with artificial flowers (or real ones, if you're willing to change them). Flowers are a great accent and will lighten your mood even if you don't realize it.
Knickknacks
You can put small decorations on shelves, such as souvenirs from vacations, gifts from loved ones, art objects your kids made, or anything else close to your heart. These may not go with the color scheme, but it's OK to have some pieces that pop.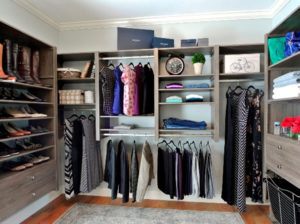 Don't Overdo it
Now it's time for some amusing counterexamples… we definitely advise against the overstuffed-closet look, two examples of which you can feast your eyes on below.
When you've recovered, just keep a few things in mind. You want a space that is open and bright, adding your personal touch with things that will make you smile. You want your closet to be neat and organized so you don't feel stressed. If your closet contains so many decorations it looks like it's about to explode, it may cause you to feel stressed even if your clothes and shoes are nice and neat!
Go ahead… Ask
Victory Closet's designers are just a phone call away and will be happy to answer any closet questions you may have. We'll help you get organized and build the closet of your dreams without the high price tag of a custom closet.
Our process is simple: Send your measurements in, and within 48 hours you will receive a 3D design of your closet, along with an exact quote. That's all! Here at Victory, we don't believe in high-pressure sales tactics. The ball will always be in your court.