Many people debate whether they should keep their shoes in their closet, mudroom, or coat closet. There are pros and cons to both so here is a list that will hopefully help you to decide based on your house and needs.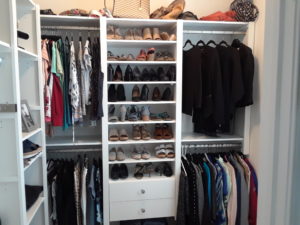 Pros:
You will have everything you need in your closet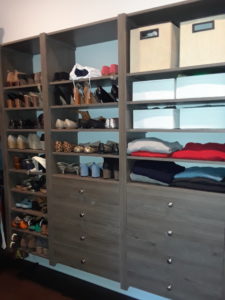 Having your shoes in your closet is perfect when you are trying to pick out your outfit for the next day. It is helpful to both men and women who try to match their outfits. Instead of walking downstairs to a shoe closet and grabbing multiple shoes to see which would look best, you'd have them all right there in your closet to try on in front of the mirror. 
Having shoes in a coat closet by the door isn't terrible if you are single. However, once you start adding multiple people's shoes to one space, you will soon have shoes overflowing from the closet. Cleaning up shoes is probably one of the things you stress about most when having guests over. I know it was for me and my husband and both of us don't have many! Keeping your shoes in the closet will keep them neat, organized, and out of the hallway or mudroom.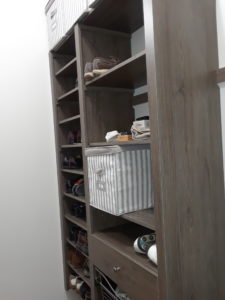 If you are someone that has way more shoes then you'd want anyone to know, keep them neat and organized in your walk in closet. You will have the space for them without them flooding onto the floor and being an embarrassment. Instead, show them off in your closet and not be afraid of what people would think. 
Cons:
Keeping shoes in your walk in closet can be more of a mess because of all of the dirt on the bottom. If you have hardwood floors or if you wear shoes in the house anyways, then this doesn't apply to you. However, if you have carpet everywhere and you are used to storing shoes in a coat closet or in a mudroom, then this may cause more of a headache for you. One way to combat the mess is by taking off the muddy shoes at the door or keeping them in the garage and keeping only your nice shoes in your bedroom closet.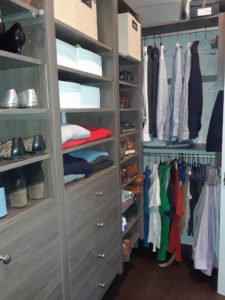 Take up space in your bedroom closet
Not everyone has the massive closet that we dream of. Instead we may be left with a closet that only allows us to hang and maybe have some shelves in it. If that is the case, use the space for items that need to be hung in the closet first and then if you still have space, put in some shelves to store folded items that you wear. After that, if you still have space then look into having some shoe shelves.
Hopefully this list of pros and cons will help you to decide whether or not to put shoe storage in your bedroom closet. Since Victory's closet system is completely versatile, you can always add shoe storage into your closet system later. We are always just one call or click away if you have any additional questions or still need help deciding what to put and what not to put in your closet!