There are so many different accessories that you can put into your closet. These range from slide out tie racks and mirrors, to jewelry drawers and glide out shelves. All of these accessories are added pieces to make organizing your closet easier and stress free. Here is a list of some of our favorite accessories!
Drawers: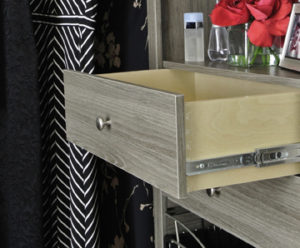 You might question whether a drawer is an accessory or not because when you look at pictures of most closet systems, you will see drawers in the closet. However, you can have a fully functional closet without having any drawers. Drawers are convenient because it allows your to clear up space in your bedroom by getting rid of your dressers. They are also helpful because you can keep everything in your closet including your undergarments.
Jewelry Drawers:
Ladies, I'm telling you these things will solve all of your problems of having multiple jewelry boxes and having no idea what is actually in them. Jewelry drawers are for the women who love to accessorize their outfits everyday. They are for the ones that have a necklace in every different color and have one that can match any outfit they put together. They are also handy for the women who love to accessorize with rings and bracelets and have more than they'd like to admit. Having a lot of jewelry is not a bad thing, but trying to store and organize it can be a nightmare. Having a jewelry drawer will keep all of your jewelry in your closet so you can easily pick out your outfit and jewelry together, all without leaving your closet.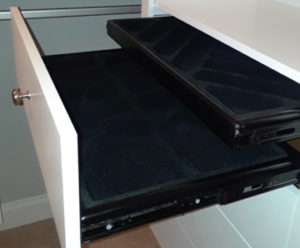 Slide out Mirrors: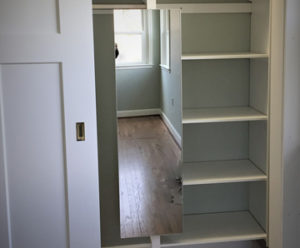 These mirrors slide into the side of your closet when they are not being used and they slide out and swivel so you can get the perfect angle. They are compact and do not take up a lot of space. The best part about these mirrors is that this eliminates the need to put a mirror on your wall. Some mirrors are large and will take up a good amount of space that could have been used to help you organize more items in your closet. Having a slide out mirror will help you have your mirror and utilize as much space in your closet as possible.
Slide out tie/belt racks: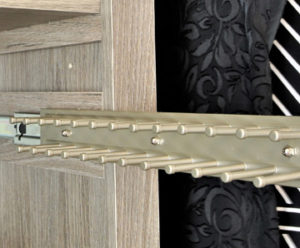 There are two different racks that can slide out. A belt rack has bent hooks that will keep items from sliding off the hooks. The tie rack has straight hooks and more of them so you can store more items. Tie racks are also perfect for scarfs and necklaces. These racks are attached to the side of your closet system and can easily slide in and out of your closet system so they can stay hidden, store lots of items, and barely take up any room in your closet.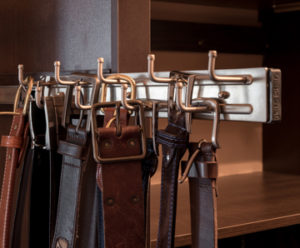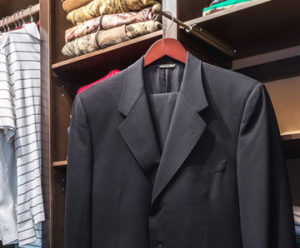 Valet rod:
A valet rod is a simple rod that is attached underneath a shelf. It slides out and allows you to place a few hangers on it. These rods are made for people who love to pick their outfits out the day before they are going to wear them.
Glide out Shelves:
While glide out shelves could be handy in your closet, they are best in places like the pantry or laundry room. It allows you to pull the shelf out so you can get to any item on that shelf easily, even if it is on the back of the shelf.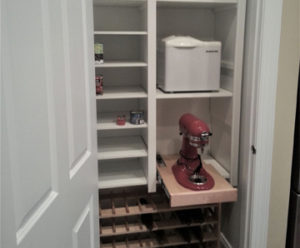 Wire Baskets: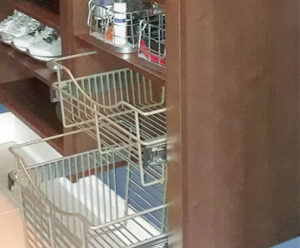 Instead of drawers, you could also put in a couple of slide out wire baskets. These are also perfect in pantries as chip baskets or store other lighter items. This saves your shelf space for the heavier, bulkier items. They can also be used in laundry rooms to hold smaller cleaning items. In your closet, they can hold items like socks, ties, or other items that you might put in drawers. These baskets come with fabric liners to keep your items hidden and to prevent them from falling through the basket.
Hampers: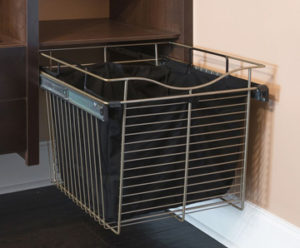 You can always put in a slide out hamper in your closet. Like the wire baskets, these also come with a fabric liner that detaches from the hamper so you can easily take it to the laundry room without taking out the whole hamper. It is convenient to have in your closet because as you are changing, you can throw your dirty clothes in the hamper without having a separate hamper that would take up floor space.
Wall Hook Rail: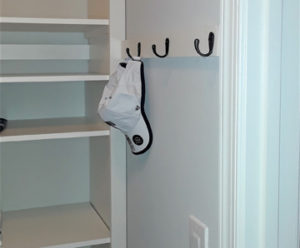 This is the most simple accessory that you can have in your closet. If you have a wall that is too small to be able to put a closet system on, you can place a rail that matches the color of the rest of your closet system with hooks on it to store items like scarves, hats, and other accessories. It is extremely cheap to have, utilizes unusable wall space, and helps you organize.
These are our favorite accessories that we offer at Victory. We try not to give you too many options to choose from because we want you to be able to have an affordable closet system with accessories that allow you to truly organize while not being too froufrou. This truly is a closet system that anyone can afford.