Custom closets offer a wide variety of accessories to make your life simpler and more organized. Of all the choices offered, there's one that's a must-have. It's economical and worth its weight in gold. Introducing the valet rod… your closet workhorse.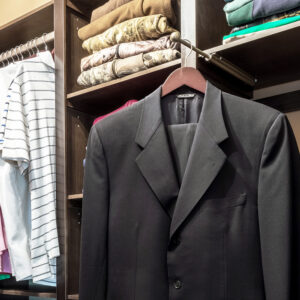 What is a Valet Rod?
A valet rod is a retractable bar that's typically mounted on the underside of a fixed shelf. It glides in and out because it's meant to hold items temporarily for quick convenience.
How can a Valet Rod be used?
Outfit Planning: Save time in the morning by staging your outfit the night before for expedient dressing the next day or hang potential outfits on the rod to help you decide between multiple options.
Keep clothing fresh: Keep pressed dress clothes looking pristine when you hang them on your valet rod rather than on a rod alongside your other clothing.
Hang Dry-Cleaning: Instead of tossing dry-cleaning items on the bed before putting away, place them on the rod for convenience and then hang them where they belong.
Air-Dry Clothing: Forget the shower rod for airdrying. Rather, hang your delicate clothes that can't go in the dryer on this retractable bar until completely dried.
Assists in Travel Planning: Many find it very helpful to hang clothes on a valet rod before packing. It's beneficial to see everything displayed in one place and assists in efficient packing.
Hang Handbags: Not sure where to put your handbag when you get home? The valet rod is your perfect solution.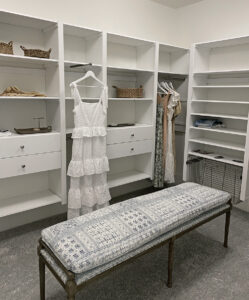 Could your life be made simpler with a closet system and valet rod? Victory Closets can help! Call to speak with one of our design experts today. Your satisfaction is our top priority.