If the idea of shopping at exclusive boutiques puts a smile on your face, why not create one in your own home? It's relatively easy to bring some luxury into your closet when you incorporate these ideas!
Use Matching Hangers
The first step to a polished closet begins with hangers. When a closet is filled with random hangers, clothing tends to get lost because they're hung at different heights. Matching hangers offer a more streamlined look, and because your clothing is hung at the same height and width it makes it easier to find what you're looking for. No matter the hangers you choose, ensuring they're all the same color also adds to that upscale look.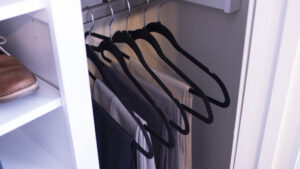 Utilize Decorative Storage Bins
Bins are a smart way to contain items and help keep you organized. Why not give your closet a stylish boost by using wickers baskets or bins made with attractive fabrics? If you prefer a clean, minimalist look, consider using clear acrylic organizers. Any of these options will take the look of your closet up a notch because they add eye-appealing interest.
Store Shoes Vertically
In most closets shoes are found on the floor, many times in a pile, or on a shoe rack. This approach not only adds to clutter, but can be an eyesore. To make your closet appear high end, store shoes vertically. Not only will it look more refined, but it makes getting dressed easier when you can see your shoe options right in front of you.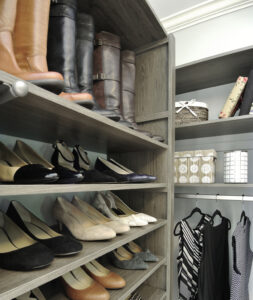 Add an Accent Wall
Don't look now, but wallpaper is back! In fact, it's been a key trend in 2022 and appears to be gaining traction. Why not create an accent wall using a visually appealing paper design? If you love the look, use it for your entire closet. You'll feel like you're stepping into a specialty boutique every time you open the door.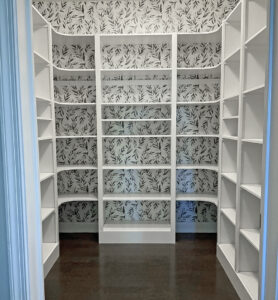 Display Artwork and Framed Photos
If you have a walk-in closet, add a few pieces of art to blank walls. For reach-in closets, place framed photos on shelving. Just as these items add warmth and interest to other rooms, they will do the same for your closet space.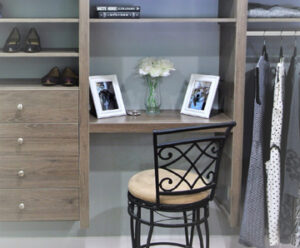 Install Decorative Lighting
Adding decorative lighting to your walk-in closet will give you a feeling of elegance. Proper closet lighting is important so you can easily see everything as you're getting ready. Why not glam up that lighting with a chandelier? They're available in all styles, from traditional, to rustic, to farmhouse chic, to modern, and will help create a special experience whenever you enter your closet.
Add a Chic Bench
Sometimes you just need to sit and ponder the possibilities before you. If you have a walk-in closet, consider adding a bench to create a comfortable sitting area so you can do just that. It's also a welcome area to comfortably slip hosiery, socks and shoes on. What's more, seating adds to that upscale atmosphere. So, find that perfect bench and enjoy what it adds to your closet space.
At Victory Closets, we assist in making your dream closet a reality. We specialize in affordable closet systems, with incomparable service. Call us today!