Accessorizing with jewelry can make an outfit go from ordinary to extraordinary. You can do the same in your home with décor pieces such as vases, glassware and wall hangings. But did you know you can also accessorize your custom closet? And just like an outfit and home decor, these accessories can make your closet go from ho hum to an instant wow, helping you every single day as you use them to your advantage.
So, let's dive into how you can turn your closet up a few notches when you add the following:
Drawer Sets
We offer solid maple drawers with dovetail joinery and soft-close glides, and they're all the rage with our customers. It might be because our drawers can easily be moved without tools or fasteners. It could also be the fact that adding drawers at a later date is never an issue. What we do know is adding them directly to your closet system is a great alternative to bulky dressers, freeing up bedroom space and making them a top accessory must-have.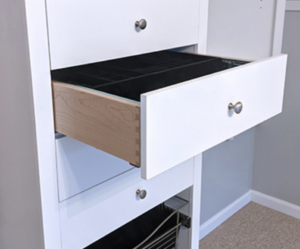 Jewelry Drawer
Our two-tier jewelry drawer complete with felt-lined dividers is not only elegant, but a great use of space. It's easily accessible and displays and organizes rings, necklaces, watches, and other jewelry beautifully. It's a smart way to make getting ready in the morning simpler. It also keeps your valuables contained and well taken care of, increasing their longevity.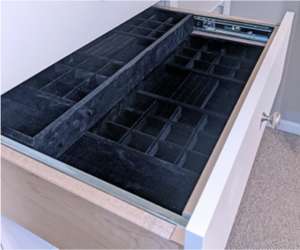 Valet Rod
Keep your freshly ironed clothes looking great for the next day with our extendable valet rod. It's also a must for pulling clothes for the next day. It's such a simple concept, yet an accessory you can't be without.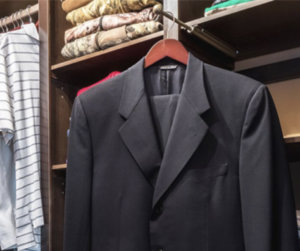 Belt/Scarf Rack
You can keep your belts and scarves neatly organized, not to mention keeping scarves wrinkle-free, thanks to this rack. And because the rod slides forward and backwards, it takes minimal space yet holds quite a few items. No more tangled belts or scarf piles!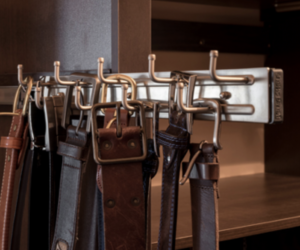 Tie Rack
This rack stores up to 25 ties neatly with our full extension sliding rack. It's another time saver, as you can quickly find what you're looking for. This rack is also a way to take care of your ties, helping to protect your investment.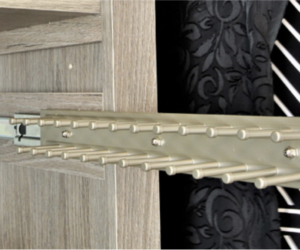 Pull-Out Wire Basket
From organizing purses in your closet, to sweaters, tops, shorts or exercise gear, these clever sliding wire baskets can be used to hold whatever you'd like. And because they're completely removable and available in a variety of sizes, you can place them where you see fit, and when needs change, they can be rearranged. You'll love the fact that you'll always know where your things are, offering peace of mind.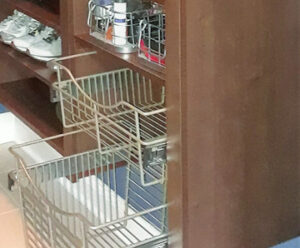 Hamper with Liner
Hampers are super convenient in a closet and thanks to the liner ours offers, it keeps items tidy and makes transferring clothes to the laundry room simple. The liner is easily removable and washable as well. If room permits, consider two hampers … one for dark fabrics and one for light. It's another alternative to making life a bit simpler.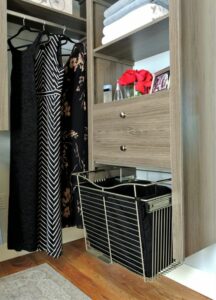 Shelving
Display your prized possessions proudly! Our designers can create a dedicated space in your closet to organize and easily access your treasured purses and handbags. They can also offer additional shelving for bins and baskets, keeping your closet neat and tidy. Think wicker, fabric or clear containers that will accent the beauty of your closet!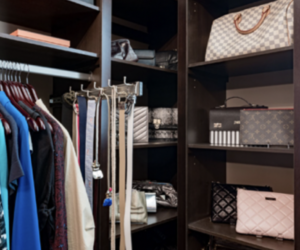 Shoe Storage
From a few pairs to a few too many (can you ever have too many?), your shoes and boots will have the perfect space. We use flat shelving that's adjustable rather than angled shoe storage, which wastes space. Although you might not think of shoe shelving as an accessory, let us assure you it is. Giving your shoes a designated area will keep them from ending up in a heaping pile, adding to unnecessary scuffing and scratches. You will easily see every shoe option available to you and be in grab 'n go mode, making dressing time a breeze.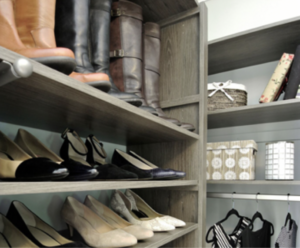 Glide-Out Mirror
Our elegant full-length mirror cleverly pivots and slides out from your closet! Why take up room in your bedroom for a full-length mirror when you can have one conveniently placed in your closet.