At Victory Closets we understand you need to find a company that is the right fit to design and install your new custom closet, kitchen pantry and laundry storage systems. We've compiled a list of our frequently asked questions so you can feel confident that you're calling experts in the field that can offer you exactly what you're looking for, in the most cost-effective way.
Q – What are the advantages of a wall-mounted closet system vs. floor-mounted?
A – It takes less materials to create the same storage. Moldings are not removed, and flooring can easily be replaced later without the hassle of removing your closet system. Check out our blog post on wall-mounted vs. floor-mounted closets for more information.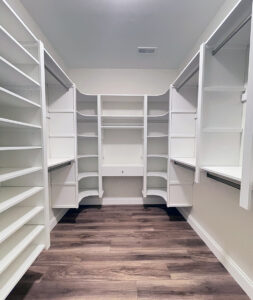 Q – Are your closets custom built to my needs?
A – We design and build your custom closet with our proprietary parts tailored to your specific needs and space configuration. We also offer drawers, doors and a variety of accessories to personalize your closet such as valet rods, jewelry drawers, glide-out baskets and hampers.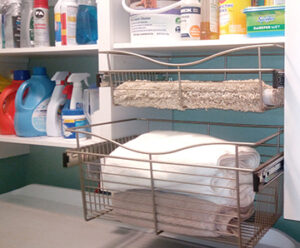 Q – Can your closet system be used with lower, angled ceilings?
A – Yes, we're able to design closets for rooms with angled ceilings. We can use our tapered panels option to allow installation of the closet system at the maximum height possible to get the most storage in situations with shorter side walls due to an angled ceiling. It depends on the height of your vertical wall; any wall height less than 48 inches may not be ideal.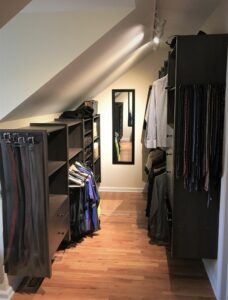 Q – Can your closet system be used with 9-10' tall ceilings?
A – Yes, ask us about our extended height system that offers additional storage height for closets and rooms with taller ceilings.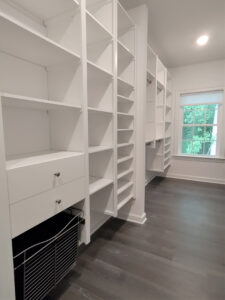 Q – How easy is it to reconfigure my closet system once it is installed.
A – VERY EASY! It takes no skill, tools, or fasteners, and you can rearrange your closet whenever needed.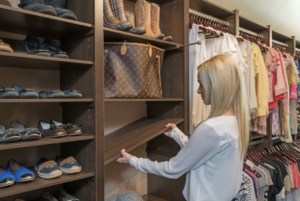 Q – What are the drawers made of?
A – We use the highest quality drawer construction with solid maple wood dovetailed drawer boxes and heavy duty undermount soft close glides. We recommend asking about drawer construction when comparing products. Other options on the market are less durable, and use inferior construction such as particle board with dowels or mitered joints.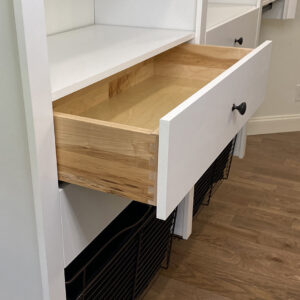 Q – How deep are the shelves?
A – Our shelves, panels and drawers are all 14″ deep. This is 2″ deeper than standard builders grade wire shelving so your clothing won't hang over the edge. We do have a 12" option available to use for narrow closets with space limitations.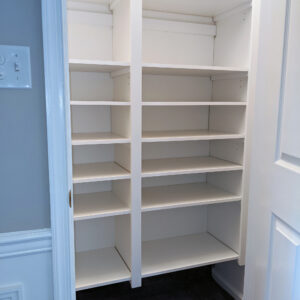 Q – How are the shelves supported?
A – Our patented system uses cleated shelving supports that provide greater stability than the standard pins or fasteners used by many other closet systems. The cleats support the full depth of the shelves.
Q – Is there a charge for consultation or multiple design revisions?
A – We do not charge for in-home consultations and design revisions. We'll adjust your 3D designs until they meet your needs and expectations.
Q – How much time does the in-home consultation take?
A – We don't take up a lot of your time, and the in-home consultation typically takes 20 minutes to an hour. We measure your closets and talk to you about your storage needs and preferences for colors and accessories. We don't take inventory of your clothing and won't ask you to sign any contracts. After your appointment, we'll create a closet design that maximizes all your available storage space and send you your 3D designs and proposal within a few days. Your first design is a starting point, and we can make any adjustments you'd like to see.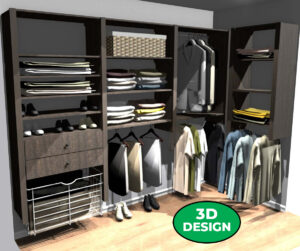 Q – Can I send my closet information by text or email or does someone need to come to my home?
A – We can create your 3D designs and provide pricing without having someone come out to your home. Just measure your closets and send us a basic sketch with the dimensions and a photo of the space if you can. Victory Closets takes responsibility for confirming the measurements before installation.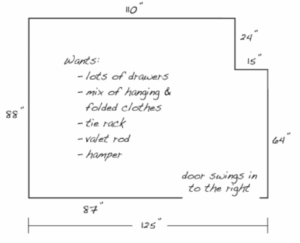 Q – Is melamine a durable material?
A – Yes. Melamine is the industry standard for closets and storage systems because it is highly durable, scratch resistant, and requires very little maintenance by the homeowner. With the Victory Closets system, we also don't screw into the melamine shelves and panels. We have a patented cleat system that is permanently fixed to the panels. Our shelves lock into the cleats which eliminates fasteners and allows you to easily adjust your closet system as needed.
Q – How long does the installation take?
A – On average, most of our closets are installed within a few hours by a skilled Victory Closets installer.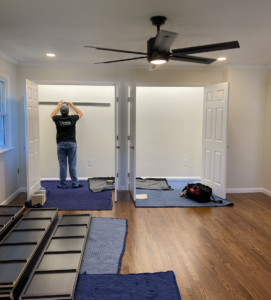 Q – Can I purchase additional parts such as extra drawers, rods, or shelves after the closet is installed?
A – Yes, and they are easy to add into your closet system without needing any tools.
Q – Do you guarantee your product?
A – Yes! We stand behind the quality of our product and workmanship, and our limited lifetime warranty guarantees your Victory Closets system for as long as you live in your home.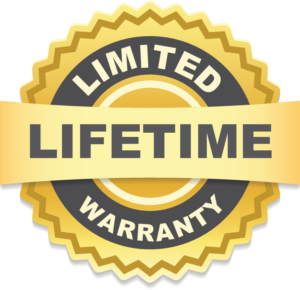 Q – Do you have coupons or promotions?
A – We keep our pricing simple, straightforward, and affordable, so our customers always know they got the best price. We don't use high-pressure sales tactics or every-day discounts to compel you to sign a contract.
Q – How should I clean my new Victory Closet?
A – The melamine-coated surfaces of your Victory Closets system don't need a great deal of cleaning. Care of these sealed surfaces is easy, and most require only periodic light dusting. To clean light dust or dirt from surfaces, gently wipe with a dry or very slightly moistened cotton cloth. To clean dirtier areas or scuffs, clean with a little water and a mild cleaning agent such as dish soap. As with any furniture product, never use excessive water, harsh chemical cleaners or abrasive cleaning pads.
We're ready to answer your questions and help you get started! We'll work with you every step of the way to make your vision a reality. Giving our customers the quality and service they deserve is what has led to our 5-star rating. Call us today!