When we're in the design consultation phase of creating customized closets, we ask a series of questions to our clients to ensure we design a layout that's exactly what they need to optimize their closet system for years to come. Obviously most people want to include hanging rods and shelving for folded storage, but when we ask if they'd like drawers, for some, this is a more challenging question. Some customers know right away that they want to include drawers and others are unsure what they will need and how many drawers is enough or too much. With that in mind, we thought we'd list some of the benefits of adding drawers to your new closet system.
1) Drawers Conceal and Contain Items
Drawers are needed for items you wouldn't want displayed out on a shelf such as underwear, bras, socks and other hosiery. Drawers are also ideal for t-shirts, pajamas and scarves. These items tend to get lost or messy when placed on shelving or can topple over when you're reaching for something at the bottom. When put in drawers, everything is in one place and kept neatly together.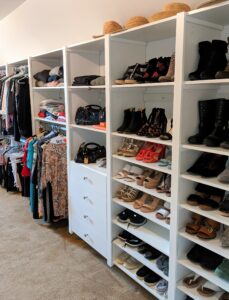 2) Drawers Can Eliminate the Need for Dressers
The benefit of a closet system is the fact that we use every inch of your closet to significantly increase your storage space. Many of our customers found that by adding drawers into their closet design they were able to remove their dressers, freeing up much needed space in their bedrooms.
3) Drawers Add a Polished Look
There's no denying the fact that drawers add instant eye-appeal and there's two reasons for that. First, they're containing and hiding items and keeping your closet neat and tidy. Second, they're beautiful. Drawers are aesthetically pleasing to your new system and can pull the entire look of the unit together making it look like built-in furniture.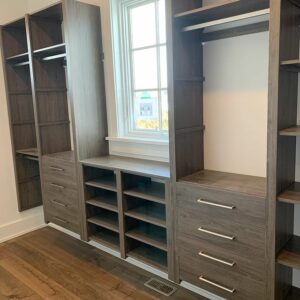 Victory Closets uses the highest quality drawer construction. We know that inferior quality drawers can rarely stand the test of time with daily use. Our drawers have solid maple wood drawer boxes, dovetail joinery, and undermount soft-close glides. Not only that, with the flexibility of the patented Victory Closets system, our drawers can easily be moved to another location in your closet without tools or fasteners. You can also add drawers later if you find you need more or if they just aren't in your budget right now and you want to start with a more basic closet design. That's the benefit of a flexible closet system.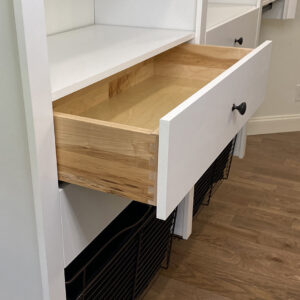 So, when it comes to drawers, think about your individual storage needs and ask our designers for help. Our top quality drawers will become an essential everyday go-to in your closet and give you the additional storage and organization you need.
Are you ready for your own closet system? Curious about the additional space you could gain with a custom closet to replace your builders grade wire shelves? Call us for your free quote and 3D rendering. Our closet system is not only top-quality, but also budget friendly and made locally right here in Pennsylvania. Call us today!