It's soon that time! Before you know it, the weather will be cooling down and you'll find yourself looking for long sleeves, sweaters and boots. Even if you're not ready to admit summer is coming to an end, do yourself a favor and face it head on so you can be closet-ready when the temperatures drop.
When done right, a closet change-over can take time. But it's time well spent and will make future seasonal transitions effortless.
Follow these simple steps when changing your wardrobe:
1) Review, Wash and Donate
Before filling your closet with everything warm and cozy, you need to pull out your Spring and Summer clothes. Prior to storing them, take the time to review each piece to ensure all stains are removed. It's always best to ensure each piece has been laundered before being packed away because bugs feed on body oils, perspiration and perfume.
As you're going through your clothing, if you find pieces that haven't been worn all summer, or worse yet, hasn't been worn the past few summers, it may be time to part with them. Be honest with yourself as you review your clothing and donate or resell those items that aren't your favorites. Why store them if you're not going to wear them?
When it comes to shoes, use baby wipes or detergent with water and give them a good cleaning. Use a soft bristled toothbrush to remove dirt from the bottom and be sure you don't store anything that has odors. The odor build-up will infect the canvas and leather on your other shoes and that could be very costly.
2) Store Clothing
When it comes to storing clothing, consider using an unused closet, a rolling rack, a clean suitcase or storage containers. Try to hang your delicate items in breathable garment bags with a felt or wooden hanger. Avoid wire hangers as they distort certain fabrics and keep away from dryer bags because they trap in moisture.  When using totes, find a dry, dark area to place them for safe keeping.
3) Pull Out Your Fall Pieces
If you didn't go through the inspection process of checking for stains, do that for each item before placing them in your closet. Remember to fold and stack sweaters rather than hanging them, otherwise they will stretch. If you have an abundance of hats and scarves, find a bin or basket to place them in. Hang items in a way that makes sense. You might consider placing them in order of color so you can easily find what you're looking for. Hang skirts together, then trousers, then jeans. Find a system and commit to sticking with it. If your shoes and boots need cleaning or shining, do it while switching your closet. Your future self will thank you. Finally; hang heavy coats and jackets in a coat closet. This will optimize the space in your bedroom closet.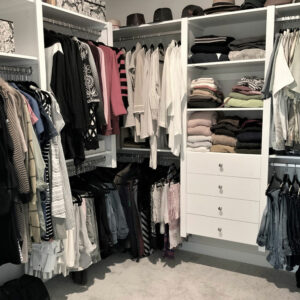 If you're finding yourself short on storage, consider a new closet organizing system with Victory Closets! We will demonstrate how you can not only increase your closet space, but have the flexibility to easily reconfigure your system based on your needs. Call us today for a free quote and 3D rendering. Your satisfaction is our guarantee!