Preparing closets for holiday guests help make their stay more comfortable and get that "home away from home" feeling. Here are seven simple ideas to help your guests feel the love: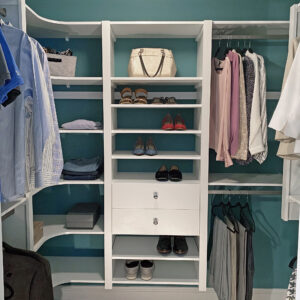 Declutter and organize: Start by decluttering closets. Remove items no longer needed and donate or store them elsewhere. Organize the remaining items so there's plenty of room for your guests to store their belongings.
Provide extra hangers and hooks: Ensure there are enough hangers for your guest's clothes. Consider installing extra hooks on the inside of the closet door or on the closet walls to provide additional hanging space for coats, bags and accessories.
Empty some shelves or drawers: Clearing a few shelves or drawers within the closet will allow them a place to keep their folded clothes, shoes or personal items.
Add storage bins or baskets: Place storage bins or baskets on closet shelves to help your guests keep small items organized.
Provide extra bedding and towels: If you will use closet space to store bedding and towels, make sure there's ample space for them. Consider vacuum-sealed bags to reduce the volume if needed.
Include a luggage rack: To help your guests keep their suitcases and bags off the floor, and make packing and unpacking more convenient, provide a luggage rack.
Personalize the space: Add a few personal touches to the closet to make your guests feel more at home. You could hang a small mirror, place a scented sachet or fresh flowers, or add a framed photo of your guest with loved ones.
Asking your guests about their storage needs is always helpful. Just remember, the goal is to make your guests feel comfortable and welcomed. A small amount of prep work can go a long way!
Need a complete closet makeover? Victory Closets can install a whole new closet system that will not only impress your guests, but will offer you additional space when your guests head home. Call us for a free rendering and estimate.