We've all seen the pre-configured closets  you can buy from your local retailer such as Ikea, The Container Store, The Home Depot or Lowes. They're a great choice if you're on a tight budget and you're handy with tools. At the other end of the cost scale, custom closets can give you what you want without your having to lift a finger, other than raising your phone to your ear. Below, we'll discuss the pros and cons of these two options, but then we'll tell you about a better option. If you're in a hurry, just skip down to Victory Closets.
Pre-configured Closets
These are the closet kits that you can purchase from a home improvement store. It is important to take inventory of all the clothing, shoes, and accessories you intend to put into your closet before you purchase one of these. The big benefit of closet kits is that they're cheaper than hiring a custom closet company. All the closet components come in boxes, along with all of the hardware you'll need to install them.  They also come with instructions, but sometimes they're difficult to install anyway.  For example, one thing you may have to do is cut the shelves to fit into your space.
It's important to note that closet kits are not reconfigurable— once you install the system you will not be able to change it around. If your tastes or styles change in a few years, that will require expense and effort.
Pros                                                                                            Cons
| | |
| --- | --- |
| Inexpensive | Install yourself |
| | Not designed to be reconfigured once installed |
Custom Closets
In order to get a custom closet, you'll need to find a local closet company or choose one of the larger franchised companies. Designers will create a closet to fit your space and accommodate your every whim. Most closet professionals will come out to take measurements and do an inventory for you.
They'll actually count the number of shirts, pants, shoes, and other accessories to make sure everything has a home. They'll listen to all of your wants and needs, design the closet, and return to  install it so you don't have to lift a finger.
While this is the easiest way to get a closet, it's also the most expensive. And once your custom closet is in place, it cannot be moved or changed around. Although it's a permanent installation and can't be taken with you, the closet can be a selling point for the house.
Pros                                                                                            Cons
| | |
| --- | --- |
| Designed and installed for you | Expensive |
| Fits your space and items perfectly | Cannot be changed once installed |
Victory Closets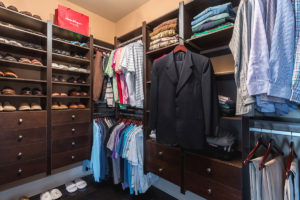 Located in the Greater Philadelphia, Harrisburg, and Lehigh Valley area, Victory Closets has a fresh take on the whole closet thing.  Our closets are a hybrid of closet kits and custom closets, but with some big advantages over both. With Victory, you still get a designer and an installer, so it is hands off for you.
Our designers will come out and measure your space to make sure you get to use every inch of your closet. However, a key difference is that we build your closet from stock parts and we price by the piece, which is what keeps us much cheaper than the typical custom closet company.
No one has to take an inventory of your closet's contents because our closets can completely reconfigure. That means once the closet goes in, you have the ability to move it around any way you like without using any tools. If you need more space for hanging, you simply put another hanging rod in. Or if you need more shelves, you take out a hanging rod and put shelves in its place. You can even add drawers without using tools! It is so simple to take it down that you can easily take it with you when you move. Of course, if you choose to leave it, it will make a great selling point.
Pros                                                                                            Cons
| | |
| --- | --- |
| Can reconfigure as your needs change | More expensive than pre-configured closet kits |
| Designed and installed for you | |
| Can take it with you when you move | |
| Cheaper than hiring a custom closet company | |
Now you know about the Victory Closet alternative! For more information, read Getting Started with Your Closet Organization Project, and there's also more about Custom vs Pre-configured closet kits.