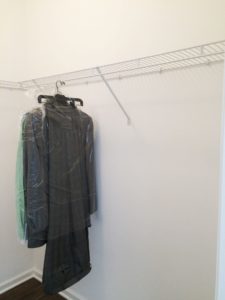 Planning a custom closet can be almost as much fun as finally getting the finished product. As you reach the end of the planning phase – after researching dozens of walk-in closet ideas you think you may be homing in on the perfect solution.
Before you finish planning your dream closet, though, take a step back and re-evaluate where you are according to several criteria that are used by professional closet planners. After reviewing these steps, we feel sure you'll be prepared to turn that closet plan into a real live closet.
1. Size up the space – If you're attempting a DIY-style custom closet, be sure to get all the necessary dimensions, and this doesn't just mean the closet dimensions. You'll want to familiarize yourself with standard clothes widths, so you'll have plenty of room to fit everything on shelves, in drawers, and on hangers. If you hire a professional, they will measure and make sure your use of space is maximized.
The Victory Closets advantage: We'll measure and help you use every inch of your closet. Cheaper than a custom closet, but completely reconfigurable (without the need for tools!), a Victory closet lets you easily decide to go from hanging rod to shelves to drawers – quickly and easily.
2. What about corners? – Closet corners can be especially difficult to manage, since space is limited. Overlaps are okay; just make sure all your space is utilized.
Victory Closets suggests hanging rods in tight corners so that you can access them more easily. If you change your mind later, you can readily switch to shelves or drawers.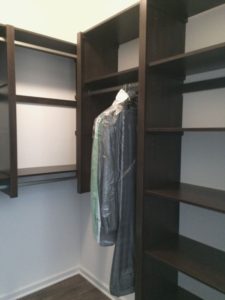 3. Remember your essentials – What's a closet without space for shoes and accessories? Shelves and cubbies can display your shoe collection proudly, and drawers or hooks are perfect for your jewelry, purses, belts or ties.
In this sample Victory Closet panorama, you can see drawers, hooks, shelves and racks for these essentials, in addition to plenty of space for clothes storage.
4. Add bonus features to larger closets – If your closet space has enough area, consider adding features that can make it an even more enjoyable space. Full length mirrors, built-in benches or other seating areas, and an island for additional storage are great luxury additions to larger closets that add that special touch while maximizing every square inch.
With this helpful guide, we hope the walk-in closet of your dreams will soon become an exhilarating reality. If you wonder whether to go with a pre-configured, custom, or Victory Closets system, we encourage you to check out our previous blog, which weighed the pros and cons of different closet systems.
If you'd like to learn more about Victory Closets and our fully configurable closet solutions, give us a call at 484-366-183 or 866-VCLOSET, or you can also send an email to info@victoryclosets.com.