I can't be happier to say that Spring is almost here! The short cold days are once again ending and we get to see the sun again. Soon the smell of grass and flowers will be in the air. Even though it's still weeks away, stores have already put out all of their Spring clothing and luckily for us the Spring sales are going on! Before you go out for more clothes, continue reading below to learn about what's in style this Spring and where to get some new items on a budget.
Tees and Tank tops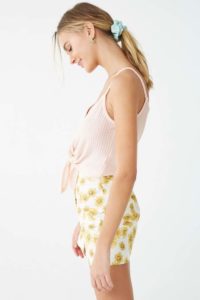 Oh, how exciting it is to think about feeling the warmth of the sun hitting your shoulders. Our skin can finally be replenished with vitamin D after this long winter! Tank tops will always be a necessity during the warmer months. Luckily, not too much changes in the styles with tank tops from year to year. The prints and colors may be a little different but they will normally have the same fitting to them so you may not have to go too crazy with buying these. The knotted tees and tank tops are definitely in. They tend to be more flow-y so they won't hug your curves like crazy. Sometimes they are tied high enough to be a crop top, but most tanks will go nicely over your jeans or shorts depending on where you tie the knot. Check out this knotted tank from Forever 21! Colors are also very important! Now that the weather is getting warmer, you'll want to go for some lighter colors. For Spring, you'll want to add some lighter colors like white, yellow, or green into your wardrobe. Pastel colors are still a hit! It also never hurts to get anything with floral prints. Check out this mint green tee from JC Penny!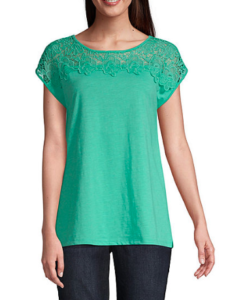 Dresses
The dresses also haven't changed much since last season. The biggest change is that they are using less and less fabric so if you're like me and prefer to cover up, you may have to look a little harder to find one that covers up all the right places. Luckily for us, there are many options out there of button up dresses. These have been around for a few years and they are still in style today! Denim dresses are also still in like this one from JC Penny! If you aren't a fan of the look or feel of denim, opt for a light, floral, or flow-y dress like this one from Target.
Skirts
While skirts aren't as popular as dresses, it's still nice to have a few. Skater skirts are still in style and have been for a few years. Denim skirts have also been in style for years! I remember wearing them when I was a little girl! Since it's Spring time and we want to stick with lighter colors, go for a lighter denim like this one from Forever 21!
Blouses and Cover Ups
The weather is warmer so you'll want something that is lighter and breathable for your blouses and cover ups. Kimonos are a great cover up that will give you one extra layer without making you sweat. They are an excellent addition to any outfit! Here's one from Forever 21! For blouses you can either go for short sleeved or long sleeved. One thing that is definitely in this Spring are ruffles. Some shirts take it a little too far when it comes to ruffles so I understand if they aren't your thing. However having a little bit of ruffle like this blouse from Kohls won't hurt! For those cooler days you'll want a long sleeve blouse. It's not as easy to find long sleeve blouses in Spring colors but they're out there! If you don't see any you like, try going for just a plain white one to still keep your outfit light. Off the shoulders and shoulder cut out blouses have been in style for awhile and they are no exception this year! Here is a white off the shoulder blouse from Forever 21!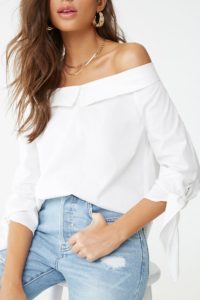 Victory
The best thing about having a Victory Closet system is the fact that you can rearrange your closet to make room for more tanks, tees, and dresses! It's time to get rid of some of those shelves for your folded sweaters and put in a medium hang for those floral dresses! With Victory, you are never stuck with one design. You can easily move every part of your Victory Closet system without any tools or fasteners. Learn how by watching this video! Quick tip…before you go out and buy any clothes or rearrange your closet system, take an inventory of everything that you have. Throw or give away any unwanted clothes first so you know what you'll need! Happy Spring fever everyone!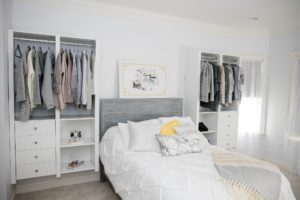 **Disclaimer**
All of the photos and links I posted were chosen by myself. I have no affiliation with any of the companies.