It appears that we may finally be rid of the cold weather that overstayed its welcome this year. Now that the warm weather has arrived, we've been getting requests for recommendations on storing winter clothing to make way for those summer wardrobes.
In response, we've put together some tips on properly storing winter clothing, along with some easy-to-follow advice from the experts at Victory Closets.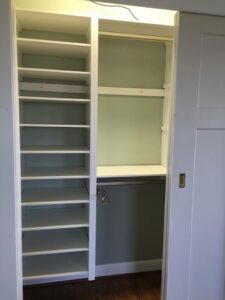 Wash & Dry – If winter sneaks up on you this fall, you'll want to be ready for it. So before you begin storing any of your winter clothing, be sure everything is properly cleaned. Sweaters, coats and anything else that may need special care should receive the proper treatment before they get packed away for the season.
Donate – If you notice any clothing you didn't wear, that doesn't fit, or that you don't like anymore, donate it!
Pack – For long-term storage you'll want to put your clothing in airtight garment bags or bins. Lightweight clothing can be hung on quality hangers (not wire!) and stored in garment bags. Sweaters cannot be hung – you'll risk stretching them and ruining their shape.
Store – One of the most common mistakes is storing clothing in the attic or basement. These areas are often much too humid, and the temperature fluctuates. If you can, use the area beneath a staircase, under a bed, or an unused closet to store the clothing away. Also, consider using dryer sheets, lavender, or even mothballs to keep your clothing fresh while it's stored away.
Reconfigure – Now that your winter clothing is out of way, it's time to reconfigure your closet. If you're the proud owner of a Victory Closet, you can do this quickly and easily without any tools! Change out shelves that were used for sweaters and create space to hang long summer dresses. Add more drawers for your husband's T-shirt collection. The possibilities are endless!
That's all there is to it! Winter storage is easy with these simple tips. If you know anyone who might enjoy this article, we'd love for you to share it with them.
Of course, if your closet can't be easily reconfigured, give Victory Closets a call at 866-825-6738! A beautiful, versatile, and affordable closet can be yours, thanks to our patented closet system that allows you to reconfigure or add to your closet at any time without any tools, fasteners, or support pins. It's the perfect solution when swapping between seasons!