In a perfect world, your morning routine would come without unexpected obstacles. Nudging the kiddos for the third time to get ready for school, prepping lunches only to discover you're out of bread, or looking high and low for the shirt you intended on wearing and discovering it in the laundry. It can make for a stressful morning and leave you feeling anxious. No one should begin their day that way.
Although we can't promise to take away those unexpected time-suckers, we can show you a way to make a big part of your morning peaceful, setting the tone for the rest of the day.
How, you ask?
By being organized with a closet system and using 3 must-have closet accessories. You visit your closet every day, so why not make it work for you? Your morning routine can be more joyful thanks to a closet system that's been designed just for you.
Now, onto those 3 must-haves…
A Valet Rod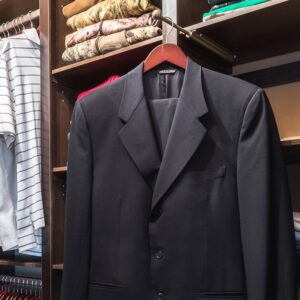 You may have noticed upscale hotels providing valet rods in their closets. They offer this because it allows their guests to lay out what they'll be wearing the next day without worrying about them getting wrinkled, and that brings peace of mind to their guests. Peace of mind creates satisfied clients. We believe hotels are onto something.
Everyone can benefit from a valet rod in their custom closet. Imagine turning in for the night knowing your clothes are laid out and ready for you. Now think about the time you'll be saving in the morning knowing your outfit is within arm's reach and ready to be slipped on. No more searching for what to wear. Sometimes it can be the simplest thing that can reduce stress and make for a great day. It will surely become one of your favorite accessories!
Sliding Racks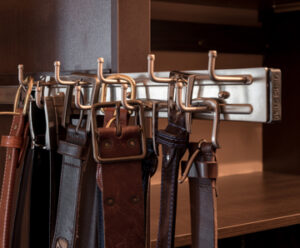 Sliding racks are must-haves because they keep your closet organized of those items that can be difficult to properly store. These pull-out racks take up less space and can accommodate belts, ties and scarfs. No more coiling up belts. No more wrinkled ties or scarves. And by placing those things on racks, you've just made your morning routine simpler. Throw on your outfit, slide out the rack and easily locate what you need.
Jewelry Drawers 
Have you ever found yourself ready to run out the door and realized you forgot your jewelry? What should be a 30 second task can turn into 10 minutes when jewelry is unorganized and in different locations. Our two-tier jewelry drawer with felt-lined dividers makes your pieces easily accessible because they're displayed and organized. Quick access means getting your day started on time.
Are you ready to simplify your morning routine? Let us help you.
Victory Closets. Another problem solved.