Unfortunately, it's that time of year again. It's time to say good bye to the hot summer days and hello to the brisk fall and winter. For most of us, that means it's time to switch our summer clothes for the warmer ones. Luckily for those with our closet system, you can do this quickly and easily!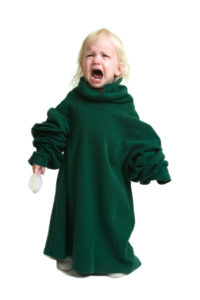 Change your long hang for a double hang: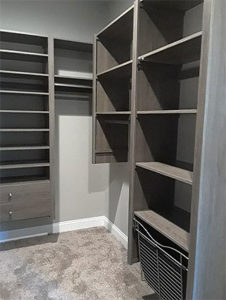 It's also time to say good bye to those summer dresses. If you had a medium or long hang section for dresses, you can easily rearrange your shelves and rods to a double hang for long sleeve shirts and sweaters. If you hang your pants the long way then you can keep your medium hang, but you can also hang them in the double hang if you fold them over the hanger. 
Change your long hang for shelves:
You can also change out some hanging for shelves if you prefer to fold your sweaters or other long sleeved items. Some hangers can destroy sweaters because of how heavy they are. They can cause them to stretch and become distorted. We suggest folding those extra thick and heavy sweaters to make them last as long as possible! 
Make room for the boots:
I know this is scary but the flip flops have got to go if you want to prevent frost bite! It might be nice to keep one pair in case you go anywhere warm or need some shower shoes but the rest of your sandals and flats should get packed away to make room for the boots. If you have shoe shelves in your closet, you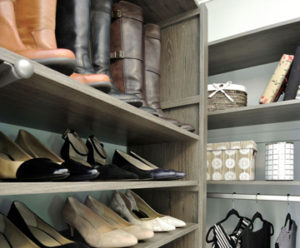 won't have to do much rearranging. If you have knee high boots, you simply just have to take out one shelf in order for them to fit in if you fold them over. If you like to stuff them and have them stand tall then you will likely have to remove two shelves. 
Think about adding some drawers:
If you grew up like me, then the winter hats and gloves could be found in a plastic bag at the top of our coat closet. It wasn't the prettiest but it was a convenient way of keeping them assessable. A much more organized way of doing it would be to add in a drawer or two. It will look nicer and cleaner in order to keep you from feeling overwhelmed and stressed by the mess in your closet.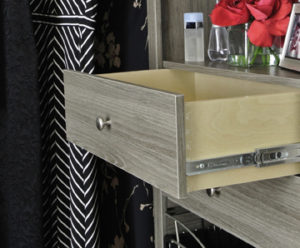 Add a scarf rack or hook rail:
Another way to store items like hats and scarves would be on a scarf rack or hook rail. The scarf rack will slide in and out of your closet so it won't take up much room but it will hold your scarves nicely. The hook rail is perfect if you have extra space on a wall that you couldn't use and you only have a scarf or two. The hook rail can also hold your hats and give you a place to hang them up to dry after walking in the rain or snow.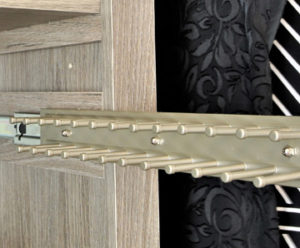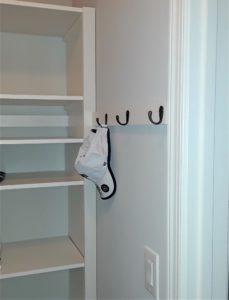 With a Victory Closet closet system, you can easily change out shelves, hanging rods, drawers, and other items in a matter of minutes. This closet system is versatile and can change when your needs change even if that means every season. If you already have a system but would like to add additional parts to create things like more shelf, drawer, or hanging space, Victory is just one call away. If you do not have one of these affordable systems yet, you have no idea what you're missing!