Homeowners invest in custom closet organization systems for many different reasons, but the benefits they experience are very similar, with the common thread being peace of mind. Below are three outstanding benefits we continuously hear from our customers:
1. They're Better Organized
Because custom closets offer more storage, thanks to unused wall space being filled with accessories like additional rods, shelving and drawers, those that use them find a place for their personal items and stay motivated to keep them there. It becomes second nature to stay organized, and that can be empowering and save a great deal of time. They're no longer searching for lost items, and they've said goodbye to piles of clothes and shoes that found their way to the floor. As Benjamin Franklin said, "For every minute spent organizing, an hour is earned." Our customers find that to be true with their new closet system.
2. Stress-free Dressing
Because of the motivation to stay organized, getting dressed is no longer time consuming. Many quickly discover they're no longer standing in front of the closet each morning wondering what they'll wear. Clothing is laid out in a way where it's easy to see the wardrobe in its entirety. Gone are the days of searching for clothing that's jam-packed onto one rod or found in a mound somewhere. The time savings, and daily stress reduction, is a pleasant and unexpected bonus.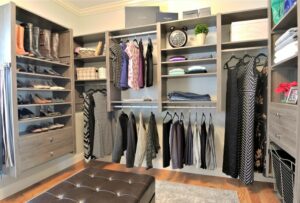 3. Clothing Lasts Longer
Closet organizing systems help customers take better care of their clothing. Clothing is stored thoughtfully, with hanging clothes being spaced apart, which stops them from getting tangled together and eliminates unnecessary wrinkling. Shelves are used for items such as sweaters, which stops the threads from stretching so they fit as well as the day they were purchased. Shoes are also placed on shelves rather than being tossed on the floor, which prevents scratches to leather and suede. Bottom line, closet systems help our customers protect their wardrobe investment. This saves them money because they're not replacing clothing as often as they once did.
Affordable Expertise
If you would enjoy the same daily benefits our customers are experiencing, contact us! Our team is here to help you find your perfect closet design. Think of us as the affordable peace of mind experts you can rely on.