The beauty of a new closet system is that you can potentially double (or sometimes more!) your storage space. You'll enjoy the satisfaction of being organized, and that will bring you daily peace of mind.
When redoing your closet, keep these 6 ideas in mind:
Use Double Hanging Rods
The days of the "one-rod-one-shelf" closet can be long gone thanks to the options available to you. Doubling your rods allows you to use the vertical space in your closet that's typically overlooked, therefore wasting valuable storage. Using double rods allows your clothes to breathe better and eliminates unnecessary wrinkling thanks to clothing items not being jammed so close together.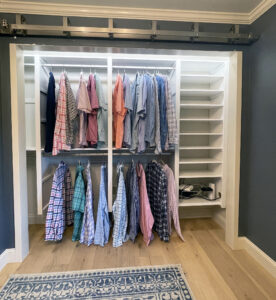 Add Shelves
Shelves are as important to your closet as rods are. Shelves allow you to house items that would normally stretch on a hanger. For example, sweaters won't pull and distort their shape when folded neatly on a shelf. Tees and jeans also work well on shelves, not to mention handbags, hats and shoes.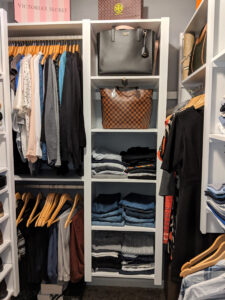 Include Drawers
Drawers add ease and convenience to your closet by keeping everything in one place. Depending on how many you add, it could eliminate the need for heavy dressers, freeing up more space in your room. They're great for storing intimate apparel, socks, hosiery and pajamas. Drawers also add eye-appeal as they conceal what's inside, keeping your closet appearance neat and tidy.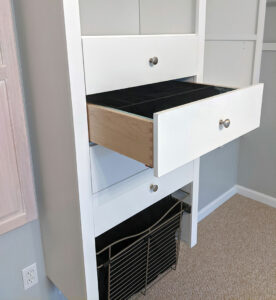 Don't Forget Shoe Storage
Footwear storage is essential in closets, yet it's the most overlooked. Although shoe shelving can take up space, it's well worth it when you think about the ease of finding the shoes you want, as well as the fact that they'll last longer thanks to them being taken better care of. Shoe piles can be a thing of the past!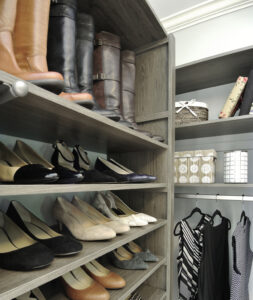 Plan for Laundry
With clean clothes, come dirty clothes. Plan now for where you'll place your soiled items in anticipation of laundry day. You could put a laundry basket on your closet floor, but if you're redoing your closet, invest in a built-in laundry hamper. A simple sliding hamper with liner will keep everything together and help your closet looking neat and orderly. A glide-out hamper with a removable, washable liner helps you maintain a clean and fresh hamper too. We've also got tips on how to properly wash clothes to get the most longevity!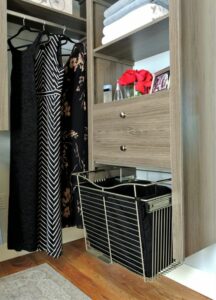 Accessorize
Closet systems offer a variety of accessories that can help you keep items organized and in one place. For example, a sliding rack made specifically for ties can come in handy if you have a large collection. The same applies for glide-out belt and scarf racks. A valet rod is a customer favorite because they're able to pull out and display their outfit for the following day to save valuable time in the morning. Look at the accessories available to you and compare them to the items you have in your closet as well as your specific needs. You'll quickly realize which will be most helpful.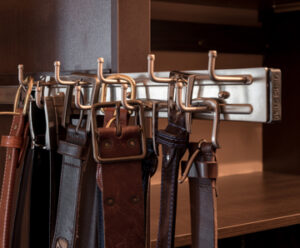 If you're ready to move forward in creating your new closet, call Victory Closets. Our expert team of designers will help you create a closet with your specific needs in mind. Our closet organizers are not only beautiful and flexible, but they're also competitively priced allowing you to get more for your investment. Your satisfaction is always our top priority!