Have you ever done a closet inventory? Closet inventories are important to do each year so you know exactly what's in, and not in, your closet. Let's face it, fashions change and what might have been great to wear at one time is no longer in style. There's also the fact that body shapes change over time. A closet inventory ensures you will have a wardrobe of clothing that fits and compliments your body.
What you'll need to begin:
A few hours of your time
Two boxes, one labeled "maybe" and one "donate"
A trash bag
A full-length mirror
A camera or friend
Here are some simple steps to doing a closet inventory:
1 – Remove Everything from Your Closet
We mean everything. Lay your items out on the bed in piles based on what they are. You will have a pile of shirts, blouses, skirts, pants, blazers, jackets, etc. As you lay them out look for holes, rips, tears, or stretched out fabrics. If you find any of those issues, put them in the trash bag for disposal.
2 – Try On Each Piece of Clothing
This is where your mirror and camera or friend comes in. Try on each piece and take a look at yourself in the mirror. Then, either take a photo or discuss with your friend how it compliments your figure. Is it too loose or tight? Does it flatter you? Is it in style? Do you feel confident in it? Then move onto step #3.
3 – Rank Each Item of Clothing on a Scale of 1-10
8+  >>>  These are the items you'll keep.
5-7  >>>  These items go into the "maybe" box.
1-4  >>>  These items go into the donation box. (Why house items you'll likely avoid anyway? Pass them along to others that will get use out of them.)
4 – Reevaluate Your "Maybe" Box
After you've gone through all your clothes it's time to go back to your maybe box. Sort through those items intentionally looking for clothing that might complete outfits with what you're keeping. If you have items you're not ready to part with, hang onto them for 4-6 weeks to reevaluate.
5 – Put Clothes Back into the Closet by Category
Make dressing easier by putting things back by category. Hang shirts together, then blouses, then skirts, casual pants, dressy pants, etc. Make a commitment to yourself that you'll follow through with this system to stay organized.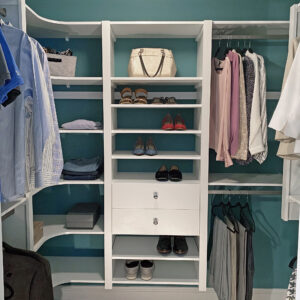 6 – Inventory Your Closet One More Time
Now that you have a closet full of items that fit and compliment your figure, and are assured they're in good condition, look over what you have and think about what might be missing. Are you lacking white shirts because what you had was stained? Maybe you need a few more skirts? Perhaps you're in need to new jeans? Make a list of what's needed so shopping will be a breeze. No more guessing what you might have in your closet. Now you'll know. And you'll also know what you need to replace so you're completely set.
Closet inventories are a great way to be sure your closet always has the pieces you love and feel good in. If, by chance, you filled your closet back up thinking there could be a better way to house your items, Victory Closets can help. We offer closet organizers that are designed specifically to your needs. Call us for your free consultation, 3D design and quote.