If you're considering investing in a closet system, or even toying with the idea, read below to see why Victory Closets might be your perfect choice.
1) Our Closet System is Versatile
With other closet organizers the design you choose tends to be fixed, adding unnecessary pressure to get the design just right. With Victory Closets there's never a commitment to just one design. Our closet organizers offer the flexibility to change your design whenever you need. We'll design your closet layout the best way possible to get the most out of your storage space and allow for future flexibility. We understand your storage needs change based on the season you're in and also your needs can evolve in the future. We want your closet system to adapt to YOU, not the other way around.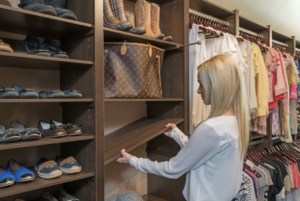 2) Our System is Wall-Mounted
Not only is a wall-mounted closet system attractive, but it also gives you multiple options for storage based on how you like to store your clothes and other items. You'll have space on the floor below the system which is convenient for storing totes, baskets, small pieces of luggage, shoes and more. If you prefer to keep the floor clear, it makes cleaning a breeze. And because flooring and molding is untouched, installation is a quick, clean process. In the future, if you want to replace your carpet or flooring in your closet, it doesn't require removal of your closet system to do so.
3) Our Drawer Construction is the Highest Quality
We use solid maple wood dovetailed drawer boxes with heavy duty undermount soft-close glides. Dovetail drawer boxes offer a great deal of longevity because the joints at the front and back of the drawer boxes are notched to fit together like a puzzle piece. This adds maximum strength to the drawer box joints making them extremely difficult to break. The drawers in your closet will get a lot of use. If they are poorly constructed, they can easily get damaged and crack or break apart so drawer construction quality should be a very important consideration when choosing a closet company.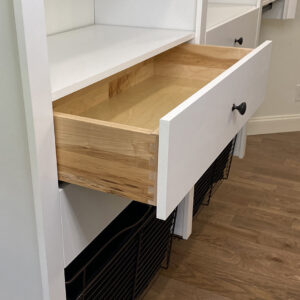 4) Our Closet Systems are Installed by Professionals who are Victory Closets Employees
Our customers appreciate that their closets and pantries are installed by a professional installer and installation is typically completed in just a few hours. Our installers are employees of Victory Closets, and they are fully trained to provide 5-star service. They will treat your home with the care and respect it deserves.
<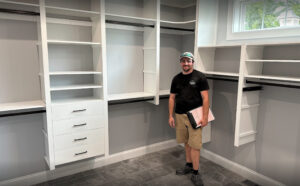 5) Our Closet Organizers are Budget-Friendly
Our vision is to make organizing your spaces easy, affordable and fun. Our systems are sensibly priced fitting most budgets, but don't just take our word for it. Here's one of our customer testimonials, "This was an easy and pleasant experience from beginning to end. I had already gathered 3 other quotes. For the price I thought I could do 2 closets, I was able to do 5."
6) Our Customers Enjoy our Limited Lifetime Warranty
We guarantee your Victory Closets system for as long as you live in your home.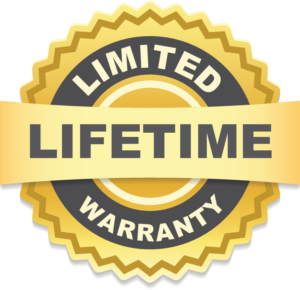 Our mission is to create beautiful, versatile, affordable storage solutions that can meet your storage needs now and have the flexibility to meet your future needs too. We thrive on delivering excellent quality and positive customer experiences that inspire you to recommend us to your friends and family.
Why not give us a call? Our design process is simple and enjoyable, and your estimate and 3D design are FREE!